Dr. Teresa Petterson is a native of Michigan. She attended Michigan State University for an equine management program that led her to Kentucky for 10 years working on a Saddlebred and Morgan show horse and breeding farm. Her uncle eventually persuaded her to pursue her original dream of becoming a veterinarian since horses sidetracked her for a while. After studying at the University of Louisville for her undergraduate degree and working as a veterinary technician, she was accepted to several veterinary schools but chose Auburn University where she received her doctor of veterinary medicine.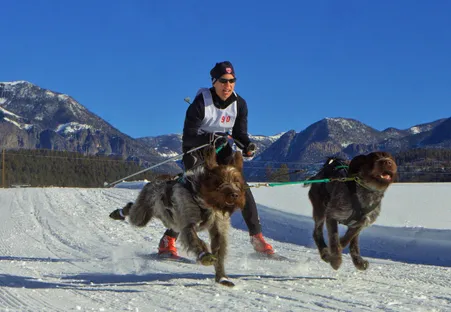 During her studies, Dr. Petterson became an avid backpacker, spending vacations exploring the Bridger Tetons and the states surrounding her studies. The high peaks of the Rocky Mountains in Colorado became her next playground after accepting her first veterinary job at a mixed animal practice in Delta, Colorado
Dr. Petterson eventually moved up the road to Montrose, Colorado at a very busy small animal, exotic, small ruminant and equine practice. The practice accepted referrals from many surrounding towns, allowing her to continue to enjoy her interest in internal medicine. While in Montrose, Dr. Petterson was able to obtain some training in canine conditioning and physical therapy and rehabilitation. She believes it is important to be proactive to help protect her skijor racing team from injury and has an entire gym in the house for her team, including treadmill, core training and balance props. She moved to the Bitterroots 3 years ago, practicing at a small animal clinic. She loves to help active and working dogs come up with plans to prevent injury, help keep geriatric dogs mobile and assist injured pets in recovery. Dr. Petterson also has a strong interest in behavioral medicine and believes nearly every dog needs a job to be healthy and happy. She plans to teach other classes on Dog Powered Sports through the Bitterroot College.
Her first skijor dog was a Greater Swiss Mountain Dog that was also a 5 time National and 3 time International champion weight pull dog. For the past 13 years she has been racing all across the western US and Canada. Currently, her team consists of Wirehaired Pointing Griffon, Finis, German Shorthaired Pointers, Bjorn, Odin, & Sven, and Drahthaar Skadi. When not training in the fall, her and the dogs enjoy upland and waterfowl hunting.