Acupuncture:
Dr. Kirstin Bull offers Acupuncture for small animals and horses. Dr. Bull is a Curacore Certified Veterinary Medical Acupuncturist and integrates the use of laser and massage into her practice.
Acupunture might be a great option for your pet that suffers from muskuloskeletal complaints like knee pain, osteoarthritis, back pain, neck pain, also can help with incontinence, digestive aliments, repiratory issues, and neurological problems.
Here's a look at some of our Acupuncture patients: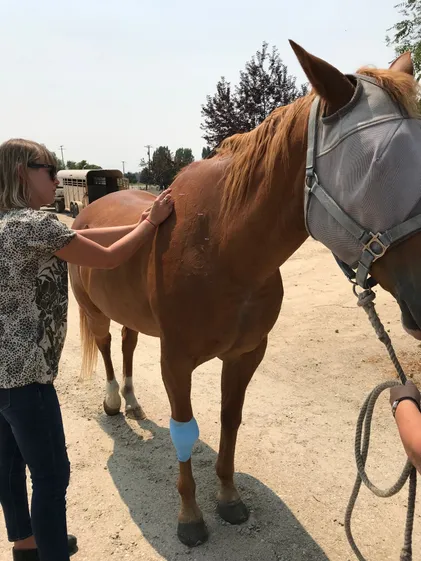 Laser Therapy:
We use a class 4 laser from K Laser to treat a variety of issues and it goes hand in hand with our acupuncture and PT treatments! Laser therapy is a pain relief tool, decreases inflamation, and speeds up healing at a cellular level. We also use laser therapy post-op especially on dentals where there are extractions and on spays at the suture site to speed up recovery!
Here is Dr. Kirstin Bull using our class 4 laser on a few of her patients!
Physical Therapy:

Dr. Teresa Petterson offers Physical Therapy options for your pets. PT might be a great option if you pet has had orthepedic surgery, is over weight, deals with hiip displasia, and so much more!
Here's a look at one of our PT Patients:
Gus is a 1 year old lab who was diagnosed with hip displasia young. He had orthepedic surgery to restore pain-free mobility to his damaged hip, by removing the head and neck of the femur. His recovery was slow, so his owner opted to start PT to stimulate his recovery and get him using that leg again.
3 weeks post-op: Gus's first day of PT was hard, he didn't want to use his leg
Day 2: Starting to use that leg while balancing on the "peanut"
10 days after starting PT:
We're excited to see how Gus will continue to progress!