Burnt Fork Veterinary Clinic is happy to offer AFTER HOURS large animal call. Dr. Magdi Niedermeyer and Dr. Zach Damby are the Large Animal Veterinarians on call.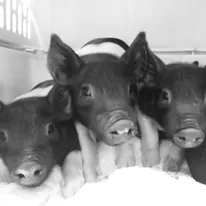 Dr. Magdi Niedermeyer is the full time large animal veterinarian happy to see your herd big or small. Dr. Niedermeyer has extensive experience with goats, sheep, horses, cattle, and pigs and we are happy to offer the following services:
Preg-Check (with or without ultrasound)
Health Certificates
Dentistry
Castration
Blood Work
Wound Treatment
Reproduction
Herd Health Management
Colic Treatment
Vaccinations
De-worming
Nutritional Consults
Geriatric Care & Consults
Parasite Management
Equine Acupuncture (ask for Dr. Kirstin Bull)
De-horning
Download our small-ruminant-info-sheet.pdf!
Featured Photos: A couple of piglets after castration, ultrasound preg-checking ponies, Dr. Bull preforming Equine Acupuncture, a successful Nigerian goat cesarean section to deliver triplets, & ultrasound preg-checking cows.
Below: Dr. Zach with a bum lamb, acupuncture on "Henry" the horse, Dr. Magdi ultrasounding a llama, Dr. Magdi performing surgery on a piglet.