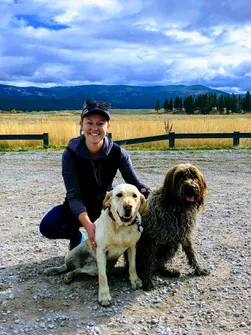 Dr. Kirstin Bull is a Bitterroot Valley native and Corvallis High School graduate. Dr. Linda Kauffman helped spark Kirstin's interest in veterinary medicine while treating her 4-H sheep's various ailments.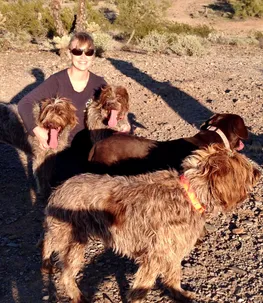 Dr. Bull received a Bachelor's Degree in Biotechnology from Montana State University and attended veterinary school at Colorado State University, graduating in 2016. Dr. Bull jumped at the opportunity to return to the Bitterroot to practice with Dr. Kauffman when it presented itself. She has been with Burnt Fork Veterinary Clinic since 2017. Dr. Bull is thrilled to officially become a part owner in the clinic!
Dr. Bull has wide ranging veterinary interests including: acute care, dermatology, infectious disease/public health, and geriatric/palliative care.
Dr. Bull is also certified in Veterinary Medical Acupuncture through CuraCore. Dr. Bull offers both equine and small animal acupuncture as an integrative treatment option for many different medical issues.
Dr. Bull and her husband, Tyler, have two dogs: Selway – a Wire-Haired Pointing Griffon, and Mesa – a yellow Lab, a kitty named Binks, and an energetic toddler that keeps them busy.
Dr. Bull enjoys the great outdoors and you can often find her hiking with her toddler or trail running with her happy dogs. In the colder winter months, she enjoys spending time with family, reading by the fire, skiing, and watching the Green Bay Packers.