Dr. Magdalena (Magdi) Niedermeyer is a Maine native who grew up on a dairy goat farm, riding low-level dressage on her family's buckskin quarter horse "Thunder," and working as a veterinary assistant in her parents' small animal veterinary clinic. Magdi completed undergraduate studies in Carlisle, PA at Dickinson College, where she majored in English and biology. She graduated from Tufts Veterinary School in Grafton, MA in 2019.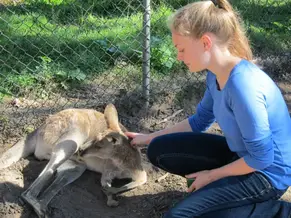 Magdi spent her first year of practice in a private large animal internship in central Maine, gaining experience in providing care for horses, beef/dairy cows, pigs, goats, sheep, and camelids. She was excited to confirm that she loves the challenges and adventure of being an ambulatory large animal veterinarian. Magdi especially appreciates being able to provide beginning and end of life care, as well as the opportunity to collaborate with a variety of large animals and their owners.
Magdi has wanted to move west since she was young, and drove out from Maine with her husband to try living in the Mountain West for six weeks in the spring of 2019, returning to spend a week in the Missoula area that December. These adventures inspired them to pack up their cat Watson, their tree, and all of their belongings in a U-Haul truck and head to Montana for his family medicine residency and her to continue practicing large animal medicine.
Magdi is very excited to be working at Burnt Fork Veterinary Clinic, and cannot wait to meet you and your pets/livestock. She is thrilled to be living in a place where she can be surrounded by mountain wilderness all day long, and to become a part of the culture that comes along with that. In her free time, Magdi enjoys running, swimming, hiking, geocaching, horseback riding, and reading.