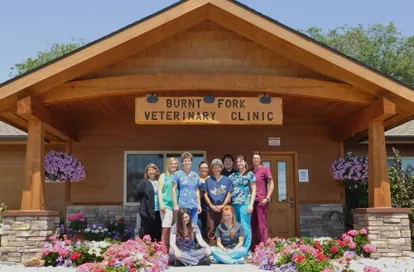 You are committed to your four-legged friend's health and well-being, and so are we! The doctors and staff of Burnt Fork Veterinary clinic are skilled professionals who have the knowledge and expertise to assist you in the care of your animals. We are driven by a dedication to and a passion for animals. We are sensitive to your needs, and value the human/animal bond.

Burnt Fork Veterinary Clinic is a mixed-animal practice. This means we treat cats, dogs, and most ranch animals including horses, cattle, goats, sheep, llamas, alpacas, and pigs. Each member of our team–veterinarians, technicians and front office staff are deeply committed to providing exceptional care for your animals and professional, courteous service to you.
So whether you have a dog who needs his regular vaccinations or a horse who needs his teeth floated, the team at Burnt Fork Veterinary clinic will take care of your animal's health!